Mploy named in Sunday Times Top 100 Best Companies To Work For
Posted: 21st February 2019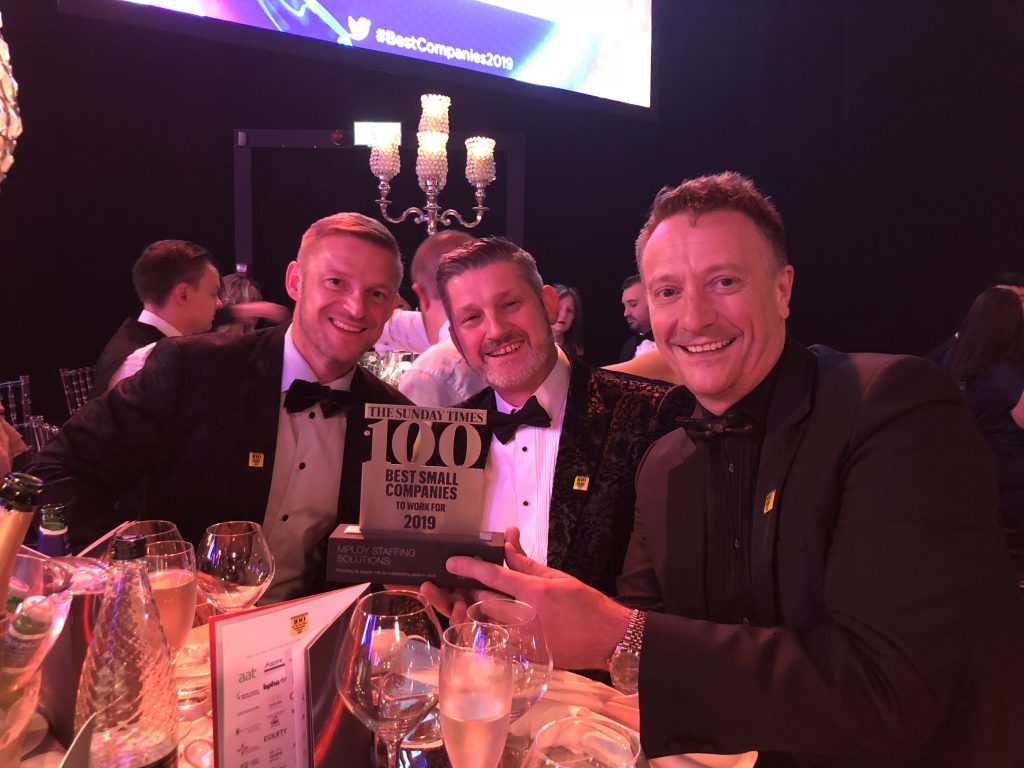 Mploy Staffing Solutions is absolutely thrilled to have been recognised as one of this year's Sunday Times Best Companies to Work For. This accolade sees the company appearing at number 30, as revealed at The Sunday Times 100 Best Companies awards ceremony held at Battersea Evolution.
The list, which is published annually, recognises the UK's most attractive and effective employers: participating organisations are judged on a variety of factors, including workplace engagement initiatives, staff wellbeing and perks, and company culture and values.
Mark Nash, Mploy's Finance Director says, "What an honour it is for Mploy to be recognised as one of the UK's best employers. Dedicated and hard-working staff are the key to the success of any company. At Mploy, we've recognised this from the very beginning and will continue to put the wellbeing of our staff above everything else."
Mploy's core employee wellbeing initiatives include enhanced maternity packages, free and confidential stress-management advice from 'Stress Right' and a wide range of social activities and events throughout the year. The company also encourages employees to take time out of work for volunteering opportunities.
Mploy has also established a mentoring programme to focus on leadership development and succession planning. The company knows the future leaders of the business are the ones working in the branches today, which is why the mentoring programme ensures everyone has a clear path for progression as well as the opportunities and training they need to achieve their career goals.
Nash adds: "In the ever-changing world of work, employee engagement should be front of mind for companies of all shapes and sizes. We know that keeping our staff healthy, productive and, above all, happy, is – and will continue to be – crucial to our success as a rapidly growing, industry recognised business. Our mission is to ensure an incredible client and candidate experience, but that's only made possible by ensuring an equally incredible employee experience."
Read Mploy's Sunday Times Best Companies profile here.