We're really proud of our awards. They're a tribute to our amazing teams and their dedication to making sure every one of our clients and candidates has a great experience with us.
---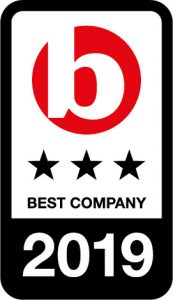 Best Companies Accreditation follows the elite 'Michelin style' star rating system for organisations that demonstrate high levels of employee engagement. Based on staff feedback, organisations receive a Best Companies index score which determines their star rating and Mploy are pleased to have achieved 3 stars.
---

BDO champions the mid-market in the Central South and the companies who continue to drive growth in the region. BDO identified Mploy Staffing Solutions as being in the top 10 performing companies in the Central South for 2018, using a calculation that measures one and three-year growth in both operating profit and turnover.
---

Investors in People is the standard for people management. The international standard defines what it takes to lead, support and manage people well for sustainable results. With a community of 11,000 organisations across 75 countries, successful accreditation against the standard is the sign of a great employer, an outperforming place to work and a clear commitment to sustained success. Based on a tried and tested framework and a rigorous process of assessment, we are proud to have met the Investors in People Gold Standard.
---