MPloy Training Academy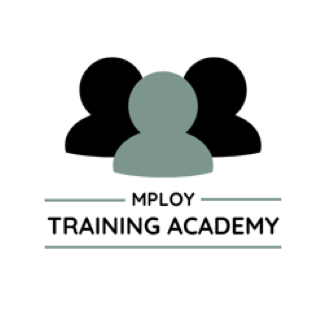 At our Training Academy we offer a variety of training courses. Mploy Training Academy's motto is "Training Matters" meaning all training regardless of the course, matters, to ensure a safe working environment for all of those in it. We take pride in our excellent training sessions, ensuring to provide an inclusive learning environment for all delegates and making sure all material taught is relevant and up to date.
"I could see Luisa had good experience and is highly qualified. Very comfortable with what she was doing and very informative"

MPLOY Healthcare Care Assistant

"Claudine is amazing, a great trainer and very friendly. By far the best training I've received. I also really enjoyed the coffee and biscuits"

Mploy Healthcare Senior Healthcare Assistant

"I have just completed my First Aid Train the Trainer course with Claudine and Luisa, the course was very informative, Claudine and Luisa have been friendly and professional; their knowledge on the subject has made the course fun and interesting. Thank you both. I shall be recommending Mploy training to other people and will be in touch when I need my M&H Train the Trainer updated."

Care Manager

We have a wide range of Training Courses
General Practical Training
Duration
Manual Handling of Inanimate Objects Full

1 Day – 6 Hours
Manual Handling of Inanimate Objects Refresher

Half Day - 3 Hours
Health & Safety Incl COSHH

Half Day - 3 Hours
Food Safety & Hygiene

Half Day - 3 Hours
Infection Control

Half Day – 3 Hours
Lone Worker

Half Day - 3 Hours
Communication

Half Day - 3 Hours
Complaints

Half Day - 3 Hours
Equality & Diversity

Half Day - 3 Hours
Risk Assessments

Half Day - 3 Hours
Basic First Aid

Half Day – 3 Hours
Fire Safety

Half Day – 3 Hours
We offer bespoke packages for all our training courses, including other courses such as Train the Trainer and Management Courses.
MPloy Academy Online Training Courses
MPloy Academy Online Training Courses
Duration
Basic Life Support
Challenging Behaviour
Dementia Awareness
Equality & Diversity
Fire Safety
Food Hygiene
Health & Safety
Infection Control
Learning Disability Awareness
Medication Advanced
Medication Awareness
Safeguarding Adults
Moving & Handling
Autism Awareness
Communication & Record Keeping
Complaints Handling
COSHH Awareness
Diet & Nutrition
Dignity, Privacy & Respect
Epilepsy Awareness
GPDR Awareness
Introduction to Sepsis
Lone Worker
MCA & DoLS
Oral Health
Palliative & End of Life Care
Person Centred Care
Pressure Care
RIDDOR
Safeguarding Children
Slips, Trips & Falls
Stress Awareness
Time Management
Book an MPloy Training course
We provide all of our training at our Training Academy in Poole, 236, 244 High St N, Poole BH15 1EA.
For an up to date list of training dates or if you would like to book a course at our venue, please contact us on 01202 486 660 or complete the form below.
Alternatively if you would like the training to take place at your venue, please also contact us and we will provide separate costings for this.
For all online training requests, please contact us for bespoke packages and costings.