Investors In People Awards
Posted: 24th November 2017
Last night the Mploy team headed to the prestigious Old Billingsgate in London for the Investors In People awards, hosted by Rob Beckett and compered 'Mr Big Money Balls' himself – Alan Dedicoat.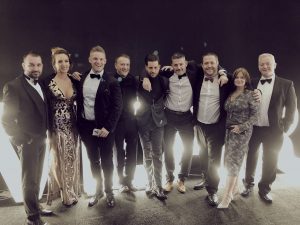 Since 1991, Investors in People has set the standard for better people management. Their internationally recognised accreditation is held by 14,000 organisations across the world. The standard defines what it takes to lead, support and manage people well for sustainable results.
Based on 25 years of leading practice, the Investors in People Standard is underpinned by a rigorous assessment methodology and a framework which reflects the very latest workplace trends, essential skills and effective structures required to outperform in any industry.
The extraordinary and unique Old Billingsgate made for a show-stopping backdrop for this special event. Benefiting from prime position on the Thames, Old Billingsgate offered a fantastic setting with spectacular views of The Shard and London Bridge. We soaked in the stunning surrounds of these iconic London landmarks and celebrated in style.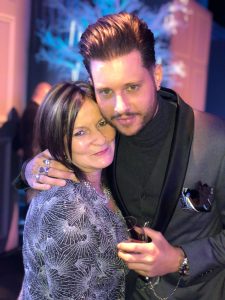 We arrived into the most beautiful room, decorated with whimsical fancy and great attention to detail. Filled with white trees, aerial dancers and reindeer, we were feeling very Christmassy indeed!
With the cream of the crop of the entire industry in attendance it was only right that we did our upmost to pull out all the stops and have a phenomenal evening.
What did we eat?
Starter – Somerset brie, apple & cider onion tart
Main – Braised blade of beef which was cooked to absolute perfection, served with carrot & swede puree and beer pickled onions
Dessert – Blood orange posset with candied orange zest, served with an almond & fennel biscotti
What did we drink?
Prosecco, Prosecco and more Prosecco. The drinks were free-flowing all night of course which has led to a few sore heads this morning!
We were treated to many performances throughout the evening, but the stand-out entertainment for us has to be the performance by Spark!  A street theatre show performed by characters that combines high-impact drumming, dynamic choreography and beautiful lighting design, they were the perfect start to the evening.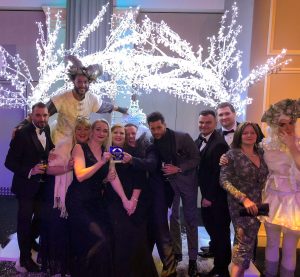 Mploy were nominated in the Gold Employer of The Year category which was filled to the brim with some fantastic businesses. We ranked 3rd… which is a fantastic achievement as we have progressed from the Silver award previously.
We don't remember much from the after-party… but we know we had a great time!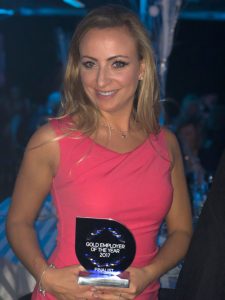 To view the live-stream from the evening, visit us on Facebook https://www.facebook.com/MployStaff/videos/1496350637145783/
…and if you fancy it, why not have a look at our Twitter too! @MployStaff