MPLOY'S SWEET 16 CELEBRATION – Opening of our Poole Head office
Posted: 4th May 2017
Celebrating growth, success and achievement over the last sixteen years, Mploy Staffing Solutions held a 'Sweet Sixteen Celebration' on April 26th at their newly opened Dorset Head Office in Poole.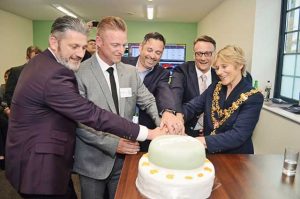 The Mayor of Poole, Councillor Xena Dion attended the event, toasted the company to their success and accomplishments over the years, and for recently achieving the Gold Investors in People Award. The Investors in People (IIP) is an internationally recognised accreditation held by only 14,000 organisations worldwide. The staff at Mploy underwent a rigorous assessment methodology for working to the framework which reflects the very latest workplace trends, essential skills and effective structures required to outperform in any industry.
The Sweet Sixteen celebration had a great line-up of fun activities with rewards for staff and customers. Activities included a charity raffle, racing on a Formula 1 simulator, a game of Black Jack in a fun casino or a game of pool in the boardroom. It was a great occasion bringing staff and customers together in a lively fun setting.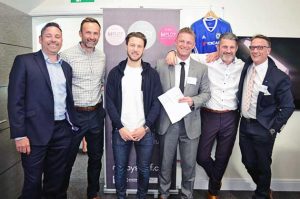 AFC Bournemouth's Harry Arter and Jimmy Glass surprised guests at the event who were thrilled by their appearance. They presented Mploy's longest service employees with awards as a token of appreciation and hosted the charity raffle. An excited Mploy's Ruth Ord took home a lovely holiday to the Caribbean. The raffle raised was in excess of £1500 for Julia's House, a children's hospice charity dedicated to bringing comfort and care to families across Dorset and Wiltshire, and the Dorset Children's Foundation, who support local sick and disabled children.
The event also celebrated the opening of Mploy's new head office built to service their seven office network, as well as housing the Poole office's recruitment services. The building also has a state of the art multimedia training and conference suite that can be made available to Mploy's supply partners for their conference or training needs.
Currently there are 15 staff operating out of this new office which is also home to a new bespoke branded board room for management and client meetings. As an IIP Gold standard company this new office aims to strengthen Mploy's commitment to lead, support and manage people well for sustainable results.
A big thanks to The Passionate PA for organising the event and suppliers Pro Racing Simulator, Viva Las Vegas Fun Casino and Molecular Magic Catering for helping make the event a great success.